Thank you very much to those who helped us color in our Christmas tree! Our goal was to raise $1500 for Giving Tuesday. Between then and the end of the year we raised $4,579.48. Thank you so much! Because of the donations we were able to bless the kids with a wonderful Thanksgiving Day and birthday and Christmas party. We first celebrated Jesus' birthday with our former street kids (the sponsored students). On Christmas Eve, which fell on a feeding program day, we celebrated with the current street boys – with gifts, goat and games! We also were able to send a few of our boys off to upcountry villages to visit relatives who we've helped them to reconcile with, so the funds have made that possible too!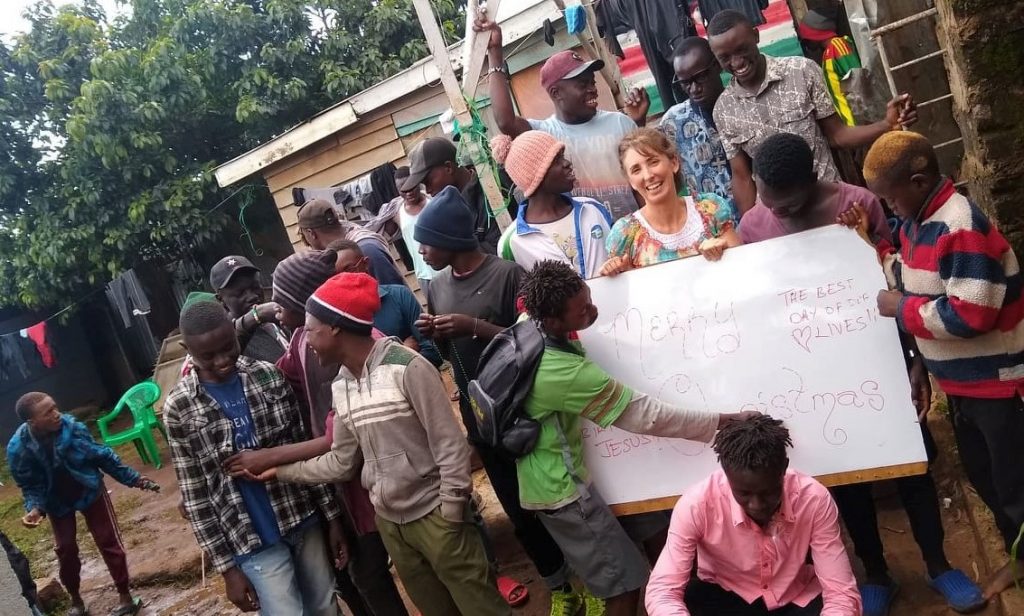 After paying school fees this month, along with salaries, rent and food, we've used what has come in so far, so your continued financial gifts are welcomed! They do greatly help us keep the work going, and we're very grateful for them! Year end donations can be a big boost to help keep the ball rolling into the new year. Ways to give tax-deductible gifts are listed at the bottom of the newsletter. Thank you again very much and may God richly bless you!
Our Christmas feast with our sponsored students.
Nice new shirts for every sponsored student for Christmas!
We praise God to see 2 of our guys graduate high school last month! And another graduate with a Grade 3 Electrical Worker certificate. And another boy who we help from time to time graduate high school. Now the high school grads are asking with help to take a course.
Also, our one girl, Faith is planning to return to high school in January. We're very proud of her for making that choice. And all the others who continue to work hard to finish their schooling. Many of them remain to be prefects in their school (or assigned leaders in certain areas) and are doing great in sports too.
For to this you have been called, because Christ also suffered for you, leaving you an example, so that you might follow in His steps. 1 Peter 2:21
"Therefore if anyone is in Christ, he is a new creation. The old things have passed away; behold, the new has come into being." 2 Corinthians 5:17
We're always most proud when our kids grow in their relationship and walk with Christ. That's why we're so happy that 9 of them were recently baptized, by my nephew Justin while he was here visiting and helping us. He led Bible studies with them and gave classes on baptism before doing so. It was a powerful time for them.
Two of our boys also recently had amazing dreams about the return of Christ. They've been telling their friends about them and leading them to Christ. And all of our kids have preached recently, even our youngest boy gave a powerful message out of Ezekiel. Thank you so much to everyone who has prayed with us and for us. You are making a big impact in the lives of these precious former and current street kids, and prayerfully on this nation, as well as other nations, all the way up to Jerusalem as we prepare for the return of Christ there.
2020 – a New Decade and Season!
We've been seeking God on what He has in store for us in the future. It's so exciting to move into a whole new decade. Though there may be many challenges – but God is greater than them all. In Habakkuk 1:9 He says "..I am going to do something in your days that you would not believe, even if you were told."
One thing we are planning to do in the upcoming year is start a Bible college at our Center in the Kibera slum, the biggest slum in Africa. As we now celebrate the Word Who became flesh and dwelt among us (John 1:14), we want to make the teaching of the Word the center of our Center. Pray for us as we endeavor to see that come to pass.
1 Thessalonians 3:12
"May the Lord make you to increase and abound in love toward one another, and toward all men, even as we also do toward you."
(The Amplified Bible)
I hope and pray that the Great Shepherd lead you all into the glorious future and plans that He has for you. Please let us know of any prayer requests you have. Thank you again for all of your love and support of what we're doing with the Lord here in Kenya. I pray that you all have the most blessed and wondrous 2020!
Mungu akubariki! (God bless you!)
(All donations are tax-deductible for US tax payers)
By PayPal – treeoflifemilele@gmail.com
Online –
https://treeoflifenations.com/donate/
Checks can be sent to:
Tree of Life
P.O. Box 640
Bridgeton, MO
63044 USA
Please feel free to contact us at treeoflifemilele@gmail.com, or visit our website at https://www.treeoflifenations.com/ if you have any questions, prayer requests or just want to get in touch. We love you! Be blessed!
With lots of love from Above,
Tammy Donahue